Yoga Classes in Lincolnshire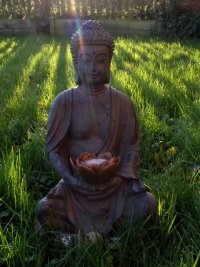 YOGA FOR BALANCE AND HARMONY FOR YOUR WHOLE SELF!
Introducing tools and techniques to enhance our quality of life so that we may feel more vibrant and alive in our body, more peaceful and calm in our mind, and more positive and light in our soul. Working without pressure or competition, our body easefully becomes ever more supple and strong, we become increasingly self-aware in our body and mind and more in harmony with our spirit and true nature.
We will be working with our body, voice and mind in practising Hatha Yoga, sometimes incorporating the use of tones (audibly, or whispered softly with the outbreath, or silently thought) as well as visualisation of colour and some use of Aura-Soma Colour tools (e.g. the fragrant Quintessences that we gently draw through our aura to clarify and attune to the uplifting effects of a finer level of energy that is delivered to us in these delicate liquid colours) This can be like calling in the Angels to support our best efforts!
We may also work with Mantra and Meditation as well as enjoying the benefits of Deep Relaxation. Deep relaxation may be accompanied by a short Sound Bath of accoustic instruments, followed by a few minutes of silence. It is in the stillness that all the benefits of our practice have the space and peace in which to be fully integrated within our being.
Yoga, sound and colour work beautifully together, making up a trinity of tools that can be utilized for our self-healing and personal development. As we improve and support the quality of our own resonance, so we also bring a finer energy to all around us!
At Bardney Village Hall, Lincolnshire
Thursday Evenings
7.30pm to 9.00 pm
Cost: £42 paid ahead per 6-week term or £7 x number of remaining weeks from when you join...or drop in per evening £9


Yoga at Bardney takes place in the evening.
Bardney lies centrally placed and an easeful drive away from Washingborough, Cherry Willingham, the east side of Lincoln(including Sudbrooke for example-just 18 minutes drive) Wragby, Baumber, Horncastle and Woodhall Spa. There is ample and free on-site parking
Please bring a mat and a blanket and wear loose, comfortable clothing. We usually work barefooted.

I look forward to welcoming you.



YOGA CLASSES TAILORED JUST FOR YOU.
At In you own home.
Times mutually arranged to suit
Cost: £30 per hour class plus travel expenses.
Tuition also available for.....
One-to-One personal class
Private Groups in your own space
Workshops: Yoga and Sound / Yoga and Colour
Please contact Blu to discuss possibilities, to reserve your place, or if you need any further information.