Yoga Classes in Lincolnshire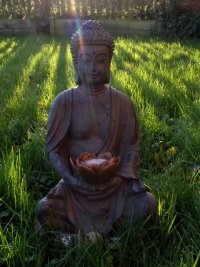 YOGA FOR BALANCE AND HARMONY FOR YOUR WHOLE SELF!
Introducing tools and techniques to enhance our quality of life. The intention is to bring more vibrancy and aliveness to our body, more peace and calm to our mind, and to develop more positivity and lightness to our heart and soul. Working without pressure or competition, our body easefully becomes ever more supple and strong, we become increasingly self-aware in our body and mind and more in harmony with our spirit and true nature.
We will be working with our body, voice and mind in practising Hatha Yoga, sometimes incorporating the use of vocal tones (audibly, or whispered softly with the outbreath, or silently thought) as well as visualisation of colour.

We may also work with Mantra, Meditation and Deep Relaxation. It is in the stillness that all the benefits of our practice can be fully integrated within our being.

Yoga, Sound and Colour work beautifully and therapeutically together, making up a trinity of tools that can be utilized for self-healing and personal development. When practised regularly and with focus they can vastly improve our state of health and raise our level of consciousness. Ultimately the goal of Yoga is to bring ourselves into total harmony within as well as with all life and others around us, to truly discover our Oneness with All...expressed in the Sanskrit language of Yoga as "Sat-Chit-Ananda" meaning Truth-Consciousness-Bliss.
At Online via Zoom
Thursday Evenings
7.30pm to 9.00 pm
Cost: £5 per online class
To connect for this online class you will need a device such as a laptop/Ipad/mobile phone with camera and speaker to connect with Zoom-usually, if you can stream YouTube, you will be able to receive Zoom.
Please contact Blu if you wish to join. After booking, you will be sent the link for Zoom each week.
You will also need a suitable space to practice where you won't be interrupted for the duration of the class(both for your own focus as well as to respect other participants)
Tuition also available for.....
One-to-One personal class
Private Groups in your own space
Workshops: Yoga and Sound / Yoga and Colour
Please contact Blu to discuss possibilities, to reserve your place, or if you need any further information.